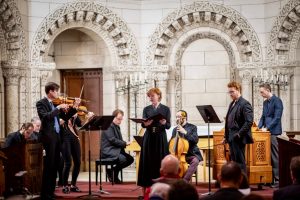 SPECIAL CONCERT
17th-c. Passion Oratorio performed by the Academy of Sacred Drama
Modern premiere of La vittima d'amore ("The Victim of Love") by Antonio Gianettini
Friday, February 21, 2020 at 7:00 p.m.
Andrew Leslie Cooper, countertenor (Christ)
Madeline Healey, soprano (The Virgin Mary)
Corey Shotwell, tenor (St. John)
Jeremy Rhizor, director and violin
leading an ensemble of eight instrumentalists
Fr. Ringley will preach a sermon between the two halves of the oratorio, as would have been done at its original performance.
You can find out more about the concert here.
Free Admission (donations gratefully accepted)
Presented by the St. Cecilia Society