ST. MARY'S BOOKSTORE
Located in the Parish Center, behind the Church
Phone:  (203) 854-9013
bookstore@stmarynorwalk.net
Visa & MasterCard accepted
HOURS
Sunday:  9:00AM–2:00PM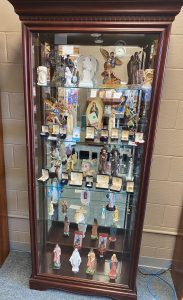 WELCOME TO THE BOOKSTORE CORNER!
Saint Mary's Bookstore was created to help our parishioners and visitors to grow in their faith by making available to them, at reasonable prices, bibles, books, novenas, statues, and all kind of sacramentals to increase their prayer lives and learn through bibles, lives of saints and many other books about our wonderful Catholic Church.
Periodically we will be announcing the recommended books by our Pastor and updated material, all related to the Catholic Church.
It is our intention to meet the expectations of the visitors of our Bookstore. We will try to have something for everybody. Feel free to make suggestions. We are here as a group of volunteers to help.
For now, our hours of operations will be every Sunday from 9 a.m. to 3 p.m. Please pray for us.
With Jesus, Mary and Joseph,
Franciscans of Mary
Gratitude Group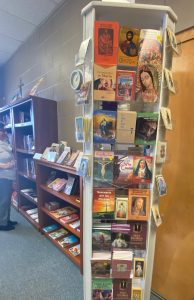 ¡BIENVENIDOS A LA ESQUINITA DE LA LIBRERÍA DE SANTA MARÍA!
La librería Santa María fue creada para ayudar a nuestros feligreses y visitantes a crecer en su fe al ponerles a su disposición, a precios razonables, biblias, libros, novenas, estatuas y todo tipo de sacramentales para aumentar sus vidas de oración y aprender a través de las biblias, vidas de santos y muchos otros libros sobre nuestra maravillosa fe Católica.
Periódicamente anunciaremos los libros recomendados por nuestro Párroco y al mismo tiempo trataremos de mantener en existencia libros estatuas y sacramentales.
Es nuestra intención cumplir con las expectativas de todos los que visiten la librería. Intentaremos tener algo para todos. Siéntase libre de hacer sugerencias. Estamos aquí como un grupo de voluntarios para servirle.
Por ahora, nuestras horas de operación serán todos los domingos de 9 a.m. a 3 p.m. Por favor ora por nosotros.
Con Jesús, María y José,
Franciscanas de María
Escuelas de Agradecimiento
---