ST. MARY'S BOOKSTORE
Located in the Parish Center, behind the Church
Phone:  (203) 854-9013
bookstore@stmarynorwalk.net
Visa & MasterCard accepted
HOURS
Sunday:  9:00AM–2:00PM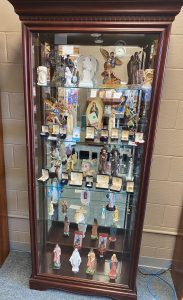 COME VISIT ST. MARY'S BOOKSTORE!
We have a very good selection of Catholic books by renowned authors and approved by our pastor. We also have Bibles, children books, and gifts for Baptism, First Communion, and Confirmation. We invite you to check our selection of gifts for parents, teachers, a special friend, etc. We have a good selection of statues of the Virgin Mary: Our Lady of Guadalupe, Our Lady of Mt. Carmel, Rosa Mystica, Our Lady of Life, also statues of Saint Philomena, St. Peregrine, St. Francis of Assisi, Saint Michael the Archangel, Crucifixes, Brown Scapulars, Rosaries, medals, chapel veils, Holy Water Fonts, candles, and much more. Come and see us!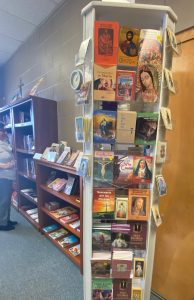 ¡LE INVITAMOS A VISITAR NUESTRA LIBRERÍA EN SANTA MARÍA!
Contamos con una amplia selección de libros católicos de grandes autores y aprobados por nuestro párroco. También tenemos biblias, novenas, oraciones, y otros libros católicos en español para adultos y niños. Además contamos con una gran selección de estatuas de la Virgen María, entre ellas la Virgen del Carmen, la Virgen de Guadalupe, La Rosa Mixtica, Nuestra Señora de la Vida, y otras. También tenemos rosarios, escapularios, fuentes para agua bendita, brazaletes, mantillas, llaveros, tarjetas para toda ocasión, y mucho mas a precios muy razonables. Si esta pensando en un regalo para alguien especial, no deje de visitarnos. Les esperamos!
---