A remarkable parish. A joyful community of faith.
St. Mary's Roman Catholic Church
669 West Avenue
Norwalk, CT 06850
(203) 866-5546
stmarynorwalk@stmarynorwalk.net
Directions/Contact us
View Mass Schedule Weekly BulletinsParish Calendar Safe Environments

---
~~~ HOLY WEEK SCHEDULE 2023 ~~~
---
view the parish calendar of events
---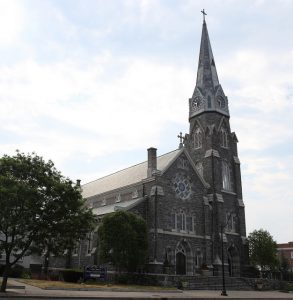 Welcome to St. Mary's!
We invite you to explore our unique, vibrant, multi-ethnic community that is unified in its reverence to the Trinitarian God in the Holy Sacrifice of the Mass. We offer reverent Masses in English, Spanish, and Latin: the mystical Mass of countless Saints since the early days of the Church.
Masses are complemented by our high-caliber music program, offering you an opportunity to encounter the artistic treasures of the Church in a way that is rarely found today. We have social groups, festivals, weekly coffee hour after 9:30 Mass, and processions on feasts through the streets of Norwalk – all fostering a united community of faith from a diverse group of parishioners.
Join welcoming groups that offer opportunities to participate in Catholic devotional practices. Enroll in a religious education class or bible study to deepen your faith.
If you live nearby (or even if you are just in the area for the day) please stop in and visit our parish for Mass. Make yourself known – we look forward to meeting you!
2023 Annual Bishop's Appeal
The 2023 Annual Bishop's Appeal is underway. Please donate today and help us reach our parish goal!

Click here to visit the Annual Bishop's Appeal Website

Visite el sitio web de la Campaña Episcopal 2023
May the God of steadfastness and encouragement grant you to live in such harmony with one another, in accord with Christ Jesus, that together you may with one voice glorify the God and Father of our Lord Jesus Christ.  Welcome one another, therefore, as Christ has welcomed you, for the glory of God.
Romans 15:5-7