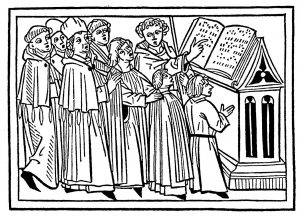 A program of musical and faith formation based on Gregorian chant and sacred polyphony, open to children and young people from ages 5–18.
Weekly classes on Thursday afternoons from 4:00–5:30 p.m. during the academic year
The spring semester will begin on Thursday, January 27, 2022. The children's schola will sing for 2-3 Masses during the spring, with other optional singing opportunities as well (e.g. Palm Sunday procession).
The Schola is open to children from any school or parish.
Fees:
$125/semester for 1 child
$225/semester for 2 children
$300/semester for 3 or more children
Register online for the Spring 2022 Semester of Youth Schola here:
For more information about this and other musical activities for children at St. Mary's, please contact us.