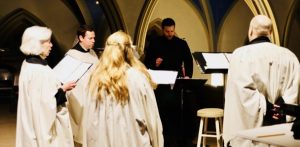 At St. Mary's, we are dedicated to cultivating the study and practice of the sung prayer of the Catholic Church. Sacred music is not a mere ornament, but a "necessary and integral part of the sacred liturgy" that "adds delight to prayer, fosters unity of minds, [and] confers greater solemnity upon the sacred rites" (Sacrosanctum Concilium, 112).  Music is therefore an area of our liturgical life upon which we place tremendous emphasis.
All sung Masses at St. Mary's feature the full Gregorian chant Propers, as well as the Ordinary of the Mass sung in Latin to plainchant or polyphony.
---
Music Staff
Charles Weaver
Director of Music
Elizabeth Weaver
Assistant Director of Music
---

Subscribe to our mailing list to receive music newsletters and notices of special events.

---
Bis orat qui bene cantat
—Sancte Augustine

Who sings well prays twice
—St. Augustine

El que canta bien, ora dos veces
—San Agustin