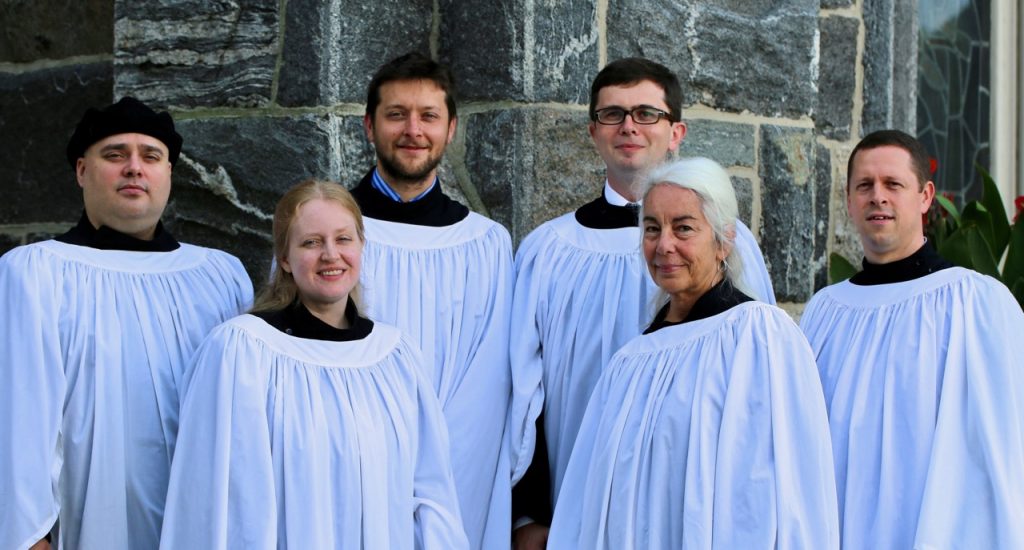 The professional
Schola Cantorum of St. Mary's
is the cornerstone of one of the most admired Catholic parish music programs in the country. The Schola was founded to provide fitting music for the traditional Latin Mass, which was instituted at St. Mary's shortly after Pope Benedict XVI issued his Apostolic Letter
Summorum Pontificum
in 2007. At all Extraordinary Form high Masses (9:30 a.m. each Sunday and holy day), the Schola sings a polyphonic Mass Ordinary, motets by composers from the fourteenth to twenty-first centuries, and the complete Gregorian propers. Over the years, the Latin Mass at St. Mary's has become the liturgical heart of the parish, and has attracted visitors from all over the country and even the world. The superb music provided by the Schola Cantorum is integral to this beloved Mass and a pivotal part of St Mary's' mission to evangelize through beauty.
Director David J. Hughes has assembled an ensemble of singers who are all at home with the most complex polyphony in the canon of Western sacred music: early-music soprano Elizabeth Weaver; mezzo-soprano, teacher, and writer Judith Malafronte; multitalented high tenor and trombonist Terrence B. Fay; tenor Richard Dobbins, who got his start in ensemble singing in the Oxford Oratory Choir; and bass Charles Weaver, who teaches and performs widely on early plucked instruments and directs early opera.
On a weekly basis, the Schola performs a wide range of the greatest music written throughout the centuries for the Mass: late medieval and Renaissance polyphony, Baroque gems by composers such as Monteverdi and Charpentier, and even twentieth- and twenty-first-century works. For important feasts, the Schola also joins the combined choirs of St. Mary's to perform large-scale music with organ and instruments, such as Mass settings by Mozart. The Schola made its professional recording debut in 2017 with Lux Fulgebit: The Mass at Dawn of Christmas Day, the world premiere recording of the 16th-c. Mass Christe Jesu by William Rasar.
The ongoing work of the Schola Cantorum is made possible by the benefactors of the St. Cecilia Society. For more information, please contact Tom Heckel, chairman, at (203) 570-7646 or theckel51@gmail.com.
View the Schola Cantorum's upcoming schedule of repertoire

Subscribe to our mailing list to receive music newsletters and notices of special events.

---
---
Ever think about joining? Find out more about our seven choirs.
---
---
Become a supporter of sacred music at St. Mary's
---
---